The pizza guy will have no trouble finding my house now
with these nice new BIG house numbers!
I used an old shutter, 6 1/2" numbers from the craft store, some thrift store stars and a larger one I cut from scrap wood and a piece of leftover house siding.
Arranged my look to how I liked it, painted the numbers and stars and screwed it all in place.....Over time it will have a nice charming weathered look.
I'm not a girl that loves yard work. I enjoy pretty flowers but
I really despise weeding, raking, mulching, toiling, etc. So to
beautify my outside space I've decided that potted plants are
the way to go! I wanted some big planters but I wanted some cute small
ones as well. Cute small potted plants need cute tables right?
Here's my outdoors inspired plant stand/table. I started by making
half inch cuts from a bunch of sticks lying around the yard. (gotta love
free materials right?) Then I glued, sanded, and added polyurethane.
It still wasn't looking quite right and I started to worry a bit.
So I cut a strip of metal to glue and tack around
the outer edge of my table top. That was exactly
what it needed....oh and it also needed some aqua
table legs, because I'm currently obsessed with that
color!
It looks fantastic on my porch....just in case you were wondering.
Week 3, can I just say beyond being super excited I am still a little shocked I have made it this far! With that being said this was defiantly a theme that I could have done 100 post on! My outside needs some SERIOUS TLC! With that being said and a huge Thank you for letting me continue in this competition here we go!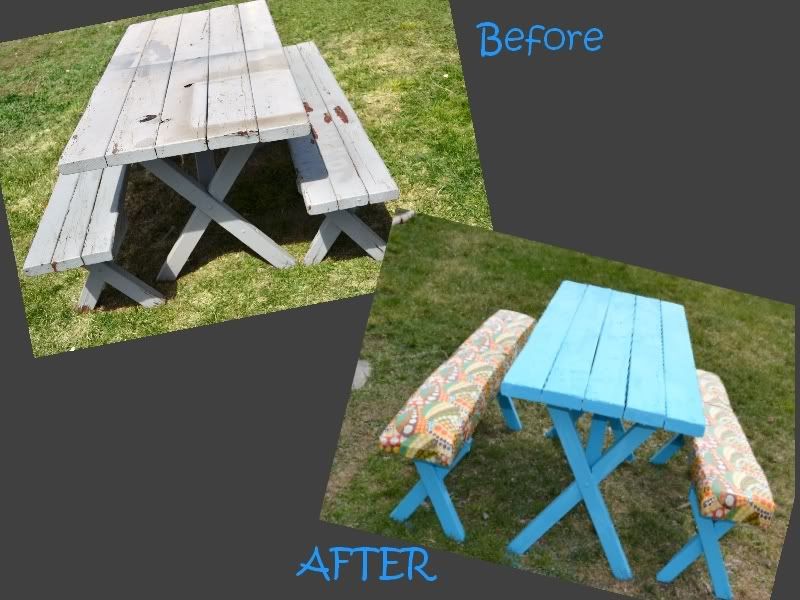 Last summer we were given a wooden picnic table. YEAH! Well it wasn't pretty but the price was right in my budget! I knew it needed a new coat of paint (desperately!) But at the end of summer that was the last thing I do!
I was looking at some fun furniture catalogs (seriously 700 bucks for an outdoor table...OUTDOOR!). I didn't enjoy the prices but loved there super fun cushions and fabrics on all of the chairs. Well that lead to me wanting to add some fun fabric to my picnic table. I headed to the store and found 2 yards of fun bright fabric and vinyl to protect and keep it bright and pretty! For Paint I decided I could just touch up the grey paint color. Once I got home I realized I wanted a bright table to match my fun fabric that I was going to add to the benches. So back to the store and there it was calling me "Seaside Blue", perfect! I Headed home and quickly got to sanding and scrapping.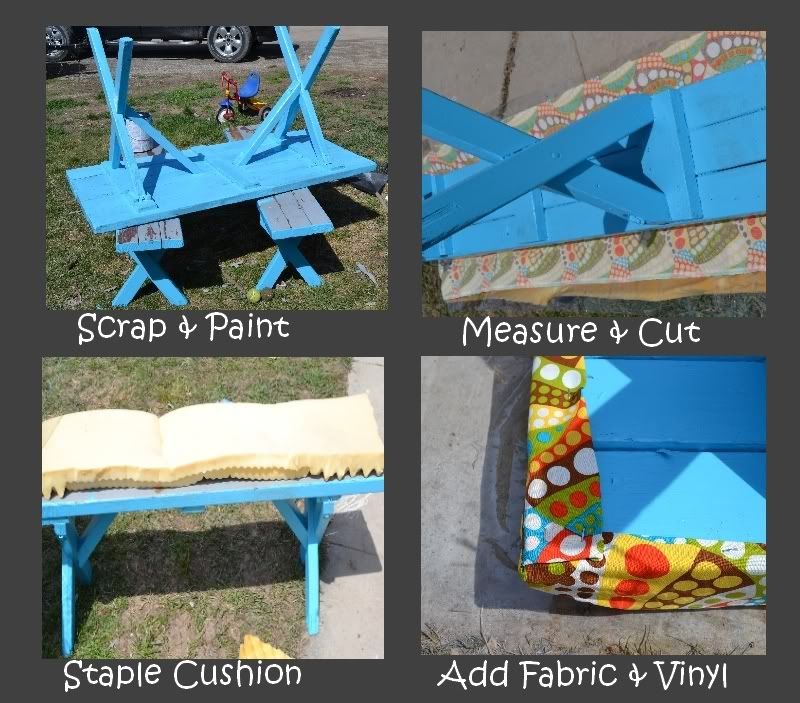 I painted and while the paint was drying on the table I got to work on my cushioned seats. I had one of the egg foam mattresses left over in our basement and it worked perfect I simply placed my bench on my foam, fabric and vinyl to measure it. To add my fabric I simply stapled it to the underside of the bench. The corners were a little tricky I folded them then stapled so it came out square. Then I added the vinyl I wanted my fabric to be weather proof and mainly kid proof. I added it next and folded the edges the same way as the fabric.
I am so happy with my results I cant wait until Easter Brunch to show off my new table. What do you think?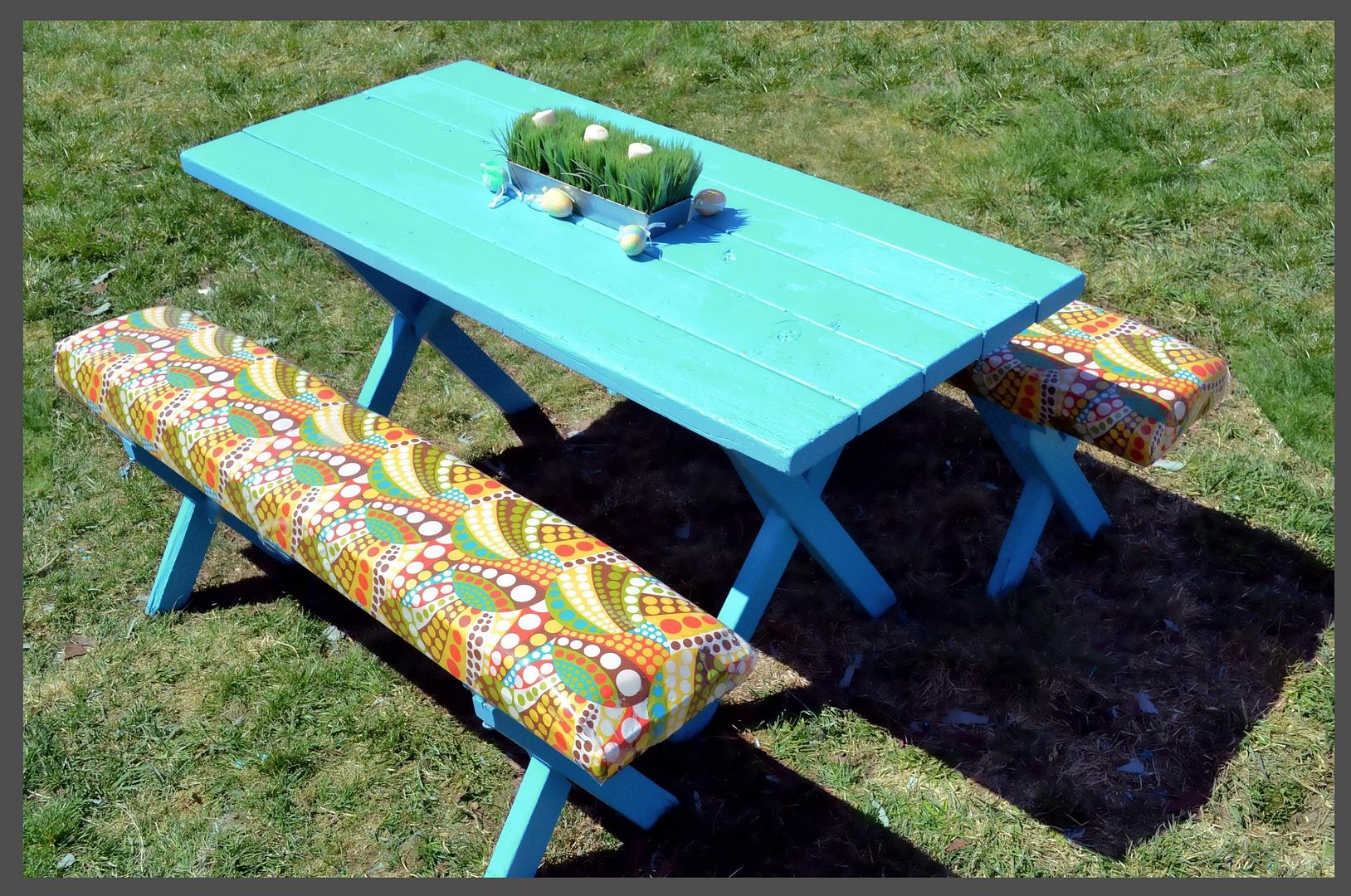 Now what to do with all of my extra Seaside blue paint!
With summer just around the corner this week's outdoor craft theme was fun to think about! We live near a park and I'm looking forward to family picnics. I wanted to make a picnic blanket that was waterproof on one side and easy to store so I came up with this design. It features a vinyl table cloth on one side, a comforter on the other side, an attached pocket that the whole blanket folds up into and an easy to carry shoulder strap.
To make this, I purchased a queen size comforter and a matching vinyl tablecloth. I used a seam ripper to remove all the bindng from around the comforter. I then cut both the comforter and table cloth to 60"x75". Next I cut a 16"x16" pocket from my excess comforter material and sewed the binding strips I removed earlier to the top and right sides of the pocket. Then I laid out the table cloth, comforter and pocket (in the lower left corner of the front of the comforter), pinned it all together and sewed the binding strips around all 4 sides and sewed down the right side of the pocket. As a final step, I sewed the yellow shoulder strap to the sides of the pocket.
When the blanket is open just tuck the strap inside the pocket as shown below in the top left photo. To fold up the blanket, lay it flat then fold it in half lengthwise, then in half again. Turn the pocket inside out so the strips you just folded are now inside the pocket. Fold the strip above the pocket in half, then in half again, then stuff it in the pocket. Now your blanket is easy to store and carry and even doubles as a pillow!
May I just start off by saying that I normally don't have a tablecloth hanging from my patio cover, but I could
not
get my "Outdoor Craft" to show up in photos without creating a blank background of some kind.
That being said, I made a
Blue Twig Chandelier.
As the weather gets warmer, it's nice to be able to hang out on the patio, host brunches, etc. I like to pair the whimsical with the traditional when it comes to setting a table, so here we are.
Gathering up sticks and branches, I spray painted them with Rustoleum's Lagoon blue. When dry, I used 28 gauge wire and hot glue to make a base with the larger branches, then began to layer on the sticks. Once I had a shape that I liked, (and got the darn thing level) I wired on votive cups and used Hubby's fishing line to hang little beads.
(Note to self: return his reel to the tackle box...)
I knew I wanted to do a chandelier for my challenge. I started several different chandys but couldn't get it right. Once I got "blue sticks" in my head I couldn't get them out. While this isn't photographing very well, it does look pretty cool. (Also, because it took me so long to complete this, I wasn't able to get a photo of it with the candles lit. Sorry.)
And seriously: you
do
believe me when I say there usually isn't a tablecloth hanging there, right? Right...?
I'm so excited to be back again for another week of OMTWI!
I love the "outdoors" theme, and I have a big to-do list for our yard...I'm happy to have one less item on the list now!
So I've had this boring old wicker coffee table sitting in my garage for about a year. We scored a huge furniture set on Craigslist, and when we went to pick it up, the guy just kept giving us more and more stuff...this was one of those items, so it was free for me. Not my style, but free's free, right?
I thought giving it a coat of spray paint (or 3 or 4...CURSE YOU, WICKER!) would do the trick, but after seeing it all white and pretty, it still just felt blah. Maybe something to the glass? I'd seen some fab tutorials on that glass etching stuff you can buy at craft stores, but mostly I'm cheap and lazy, so I really wanted to think of a way I could do a similar effect using things I had at home... And behold, faux faux etching was born. Or "fetching" if you prefer. ;)
I used freezer paper and traced and cut out my own stencil (ignore the millions of erase marks...it took awhile to get the design right). Then you have to have your supplies all ready to go quickly on the next part. Spray the glossy side of the freezer paper with some spray adhesive. While it's sitting (1 minute), shake your brushed nickel spray paint. Time's up on the spray adhesive, so hurry and stick it to the glass and give it a very light dusting of the spray paint. Then quickly peel off your stencil and clean up any messy spots with your fingernail (I'm classy like that). ;)
What's also great about this method is that it is removable with a little elbow grease! You'll really need to scrape it and wash with warm soapy water, but if you should ever decide to change it out or get bored with your design, you're not stuck with it! Awesome for the fickle decorator like myself!!
Maybe I'll call it "semi-permanent glass tattoo" instead of "fetching". What do you think?