Season 4 is over! And we have a winner!! The winner of Season 4 is....
Beach Towel Rompers
1st place receives the following:
Congrats!!
Anchor's Aweigh! - A Nod to the Nautical
2nd place wins the following:
And finally third place goes to....
Beach Themed Art
All of the ladies deserve a big round of applause! What a great season! Be sure to check out all of the Season 4 contestants and their blogs!
Did you love this week's theme? Can't get enough beach themed projects?
The Country Chic Cottage
is having a beach bash party June 27 to July 20! Former OMTWI contestants will be strutting their stuff and coming up with great beach themed projects! Come join in the fun!!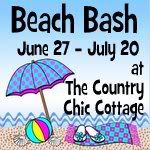 Thanks for following along for another great season! Season 5 will start Sunday! Then OMTWI will be on a short vacation but will be back soon!