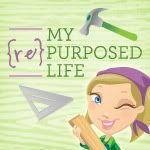 I pulled up her blog to write this post this morning and her latest project made me gasp. You will regularly gasp on the My Repurposed Life Blog! Just check out her latest
desk that she repurposed into a chest
...
Maybe you have
an old crib you want to repurpose
? Gail can help you there too...
So head on over to her blog and get lost in the great projects and posts. Be sure to hit that follow button so you don't miss a minute.
We also asked Gail a few questions to get to know her a little better...
How did you start crafting?
I have always been a crafty person, but after losing my job of 19 years, it became necessary for me to be crafty AND frugal. I started curb shopping and thrift store shopping in order to keep myself busy. That lead to starting my blog. I've often said I don't know if I blog so I can "do projects" or if I do projects so I can blog.
What's your favorite style (steam punk, modern, shabby, etc.)?
I really don't have a favorite style of decor. I am very decor challenged. I am drawn to the shabby look for sure when I read other blogs.
Besides crafting, what are your other hobbies?
My blog is both my job and my hobby. I love building and repurposing furniture. It's what keeps me busy and makes me happy.


Thanks so much Gail for guest judging the auditions! They are off to a great start!