Welcome to week 1 of our newest season! This week's theme is sponsored by
Krylon
. Let's see what fabulousness our contestants did with
Krylon products
!
VOTE FOR YOUR FAVORITE!!!
Number 1: Boy's Room Mobile
After our daughter got a major bedroom makeover, I decided that her brother needed a little sprucing up in his. It's been a slow process, but one thing that he loves about his sisters bedroom is her awesome butterfly chandelier. So, he placed an order with his mother (me) for a similar one, but he requested "TRUCKS!"
I said, "Yeah! I can do that!" And I got to work,...
Started off by collecting my materials: Metal ring, wooden shapes including "TRUCKS!", wire, leather craft lace, and most importantly Krylon spray paint.
I primed and painted the wooden shapes and the metal hoop. Then, I drilled a 1/8 inch hole at the very tippy top of the shapes and threaded the leather lace through. I cut the lace at various different lengths and hung it from the painted wire hoop by looping it around and securing with my hot glue gun.
Lastly, I screwed a hook in to the ceiling just above his bed and hung it up. Voila! All done! My little guy told me he "loved me more than ANYTHING" when he saw it. So, I guess he likes it! ;)
I hope you're having a happy day! :D
Number 2: Yard Sale Chair Makeover
When I found out the first project was Krylon spray paint, I did a little happy dance. I. Love. Spray. Paint. All the times I have gone a little spray paint crazy, I have never spray painted furniture. What?! I know get with it right?! So I decided to spray paint something I had on hand and I think the fumes may have gotten to me because the fabric got some spray paint as well. I took this $4.00 yard sale chair and turned it into this:
I used Krylon's Gold Metallic for the body and Krylon's Flat Black for the fabric. I first sanded down the frame slightly. Then popped off the million staples the last person put onto the cushion. That was fun! I added the top cushion by stapling a piece of foam I cut to size. I then added the fabric I spray painted with staple gun and hot glued the trim. I did the back by cutting a piece of poster board I had on hand, then added batting, fabric, and a nice decorative trim to hide the staples.
Sigh...Hard to believe it's the same chair. It was worth having to ice my hands for a day from the staple gun. Note to self: buy better staple gun.
Number 3: Krylon GLAM-Pire
A pair of boots from the past, with a little glitter blast
And a handmade cape blinged from toe to nape
Put it all together, this little number is on fire and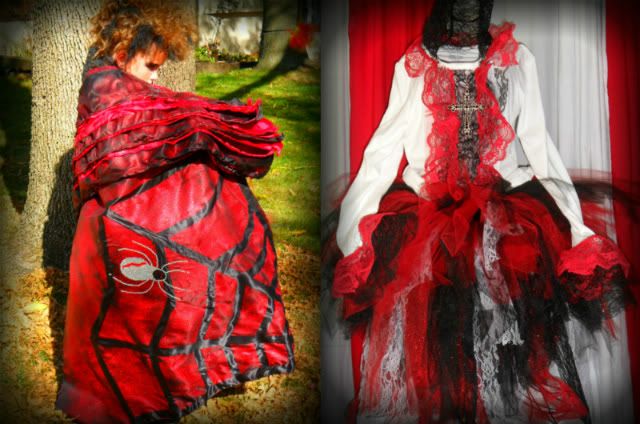 Number 4: Beaten Up Dining Chairs to Fab New Poker Chairs!